This article will explain what ID protection is, which domain type it applies to, and how you can get this added or removed from your domain name.
---
What is ID Protection and how does it work?
To register a domain name you are required to provide accurate contact details which require verification from the owner. These contact details are then stored in the "whois" database which is publicly available.
The purpose of ID protection is to hide the personal contact details of the domain registrant, which can be applied to your domain name for an additional fee of £10 (incl VAT). ID protection applies to the majority of TLD's, primarily .com / .net / .org / .biz / .me / .name etc. 
This feature shields your private information and provides a high level of protection against spammers and identity theft. It prevents spammers from obtaining your email address and offers you complete control over your domain name.
---
Step 1 - How do I register a new domain with ID protection?
You can register a new domain and order ID protection from your [client portal] (If you cannot remember your password, there is a [password reset link]). 
Click on the Domains option at the top, and then select Register a New Domain.
---
Step 2
Search for your new domain name and add it to the cart.

---
Step 3
Tick the ID protection box and this automatically adds the additional cost to the domain order.
Continue the on-screen steps to complete the domain registration and purchase.

---
Step 4 -  How do I add ID protection to a domain name already registered?
In your account click on the domains tab and then My Domains.

---
Step 5
Select the Active button (under the Status column) on the domain you wish to add the ID protection.

---
Step 6
On the left-hand side, you will see the Manage section, with the option Addons.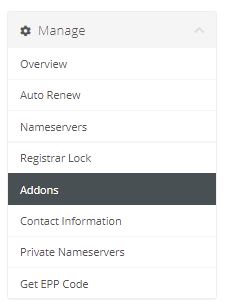 ---
Step 7
Click on the green button Buy now for £10GBP and follow the on-screen instructions to complete the purchase.

---
Step 8 - Can I disable ID protection on my domain name?
Follow steps 4 to 6 and click on the addons section. From here you will have the option to disable ID protection.
---
Need further assistance?
If you require further assistance please contact the ProStack team and we can help get this resolved for you! [Get in touch today!]
---