For domain names such as .COM / .NET etc you will need to unlock the domain and request an EPP code.
You can request this information within your [client portal] (If you cannot remember your password, there is a [password reset link]).
Before transferring the domain away, you need to check the following:
If the domain name has WHOIS privacy enabled, this must be disabled before a domain transfer can be initiated
The registrant contact email address is valid and emails can be received to the address
The domain is "unlocked"
Please note, if the domain has been recently renewed or the contact details have been recently modified the domain will be locked for 60 days. After the 60 days have been completed, you will then be able to request an EPP code.
---
Step 1
Once you have logged into the account click on the Domains and then My Domains tab.

---
Step 2
Select the Active button (under the Status column) on the domain you wish to transfer away.

---
Step 3
On the left-hand side, you will see the Manage section, with the option Get EPP Code at the bottom.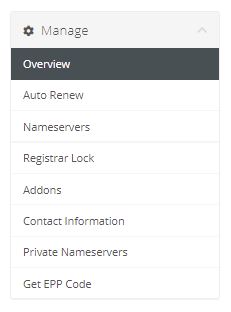 ---
Step 4
Click on Get EPP Code and this will automatically send the information to the registrant contact.
---
Please note: The domain transfer will be released within the 7-day waiting period. Further information on how long it takes for a domain to be transferred can be found [here].
---
Need further assistance?
If you require further assistance please contact the ProStack team and we can help get this resolved for you! [Get in touch today!]
---