Domain names from certain country-codes and specialty domain types (TLDs) require a specific renewal process.
There are some domains that require auto-renew only. This means they cannot be renewed manually by placing a renewal order or extending the renewable period.
To make sure these domains renew, the domain's auto-renew setting must be enabled prior to the "Delete by" and "Auto-renew before" date. If the setting is disabled and it has gone past the "Renew by" date, then the domain name will be inactive immediately.
The domain goes straight into the [redemption period] and will need to be retrieved for an additional fee.
Please note, If you no longer require the domain then it is safe to disable auto-renew, [instructions can be found here].
---
Auto-renew only domains and the 'renew by' periods
These domain types must be renewed by the number of days listed below, prior to the domain's expiry date.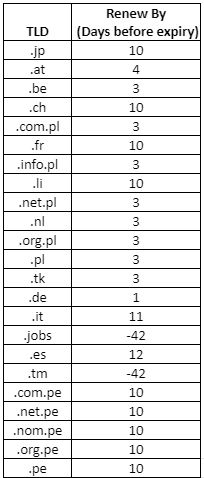 ---
Step 1 - How to check auto-renew is enabled on your account
Log into your [client portal] (If you cannot remember your password, there is a [password reset link]).
Once logged into the account, click on the Domains tab and then My Domains.

---
Step 2
Select the Active button (under the Status column) on the specialty TLD domain you wish to check.

---
Step 3
On the left-hand side, you will see the Manage section, click on Auto-renew.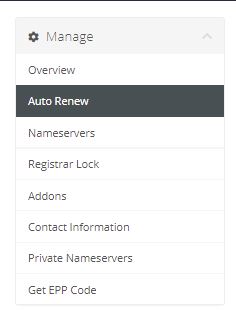 ---
Step 4
The auto-renew status will show as Enabled in green.

---
Need further assistance?
If you require further assistance please contact the ProStack team and we can help get this resolved for you! [Get in touch today!]
---