The ultimate security with a Penetration Test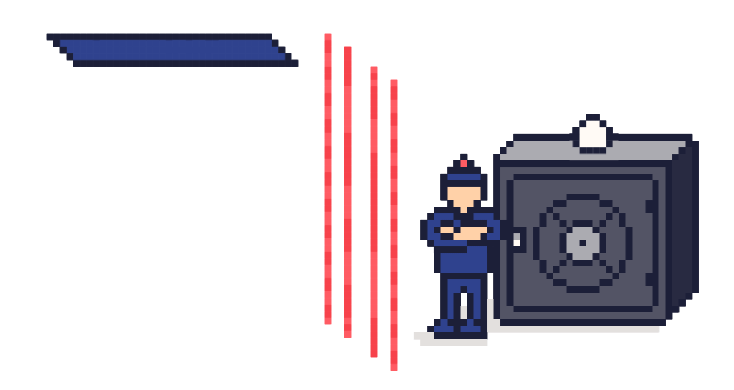 Benefit from increased cyber security right across your business infrastructure
For business-critical web applications and enterprises, penetration testing gives you the confidence that your systems are secure from high-risk threats. Identify and exploit shortcomings in your security, before others do.
Discovers security flaws and helps prevent data breaches.

Meets legal and compliance requirements.

Expert testers with CREST certified accreditations give you peace of mind.
Find and fix your security weaknesses with a Penetration test
All your requirements are gathered and your goals are set. Essential for a smooth and controlled exercise.
1. Intelligence gathering and threat modelling
We perform an initial research approach that aims to gather as much information as possible.
2. Vulnerability analysis
Using that research we identify flaws in networks, systems, and/or applications.
All external and internal vulnerabilities that are in scope are attacked. Using a combination of available and custom-made exploits and techniques in order to tamper with improper configurations, bypass security controls, and access sensitive information.
Finally, we determine the value of the compromised targets by trying to elevate privileges and pivot to other systems and networks that are defined within the scope.
Finally, we'll document everything scoped and discovered during the test. It should be noted that vulnerabilities that cannot be exploited will also be included in the final report.
Upon the completion and delivery of a penetration test, we'll conduct a de-brief session to explain the findings and risks listed in the report, as well as give you the opportunity to ask any questions.
Sounds good? Let's talk
Our experts are ready and waiting to chat through our most suitable penetration testing options.
FAQs
What are the benefits for my business?
Prevention is better than cure! Penetration testing helps prevent data and security breaches that could be ...
Will Penetration testing guarantee my security?
The purpose of a penetration test is to identify any exploits or vulnerabilities your systems may have. The ...
Can we get a retest?
Absolutely! It's recommended to carry out a retest 3 months after your initial pen testing, giving you time to ...
Will you make the fixes for me?
Yes, the reports provided by the penetration team will include any remediation advice which we will carry out ...
Is it just my website that is tested?
There are different types of penetration tests, each designed to target and test different aspects of your ...